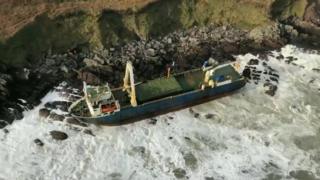 A "ghost" cargo ship has cleaned up off the coast of County Cork, Ireland, generated by the bad weather condition that lashed Europe in Storm Dennis.
The deserted boat was spotted on the rocks of fishing village Ballycotton by a passerby.
The vessel appears to have wandered countless miles over more than a year, from the south-east of Bermuda in 2018, throughout the Atlantic Ocean.
" This is one in a million," said local lifeboat chief John Tattan.
The head of Ballycotton's Royal National Lifeboat Organization (RNLI) informed the Irish Inspector newspaper he had "never, ever seen anything deserted like that prior to."
So what's the story behind this mystical ship without a team?
With just 2 days of food left on board for Alta's team, the coast guard air-dropped food and other supplies.
As a cyclone approached, the coast guard chose to rescue the damaged ship's 10 team members and take them to Puerto Rico.